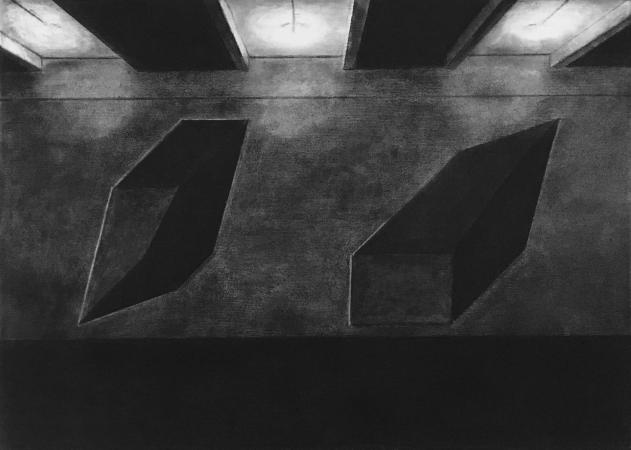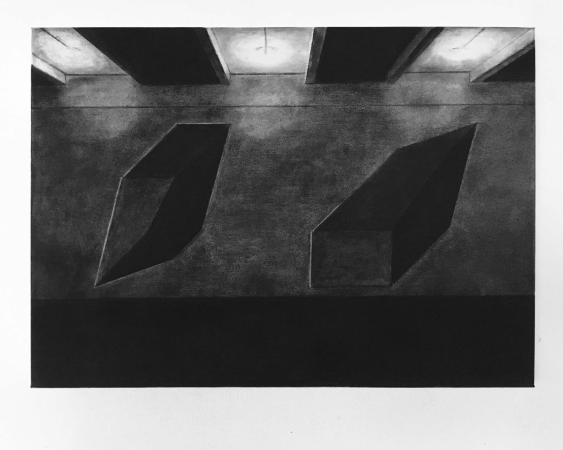 Sol
The internet deeply affects our relationship with art experience today, as with our human, physical and social experiences.
The numerous smartphone snapshots, videos, reels and stories made by artists in their practises, key-role players in the art world and enthusiasts at events never gave us as much instant access to art as ever. Because of its virtual nature and the volatile behaviour of scrolling, swapping, liking, and deleting, the online art experience, however, is one of instant consumption.
Joachim Devillé reconstructs the instant consumed images into physical artefacts through photographic manipulations and drawing. By erasing the artworks, visitors and other ele-ments from the original digital snapshots, the images tend to tackle our collective memory and experiences.
This first drawing in the Snapshot series however is still depicting the artwork in the exhibition space; "#411B: Isometric figure with progressively darker gradations of grey ink wash on each plane" by Sol Lewitt from 1984 at Dia Art Foundation, New York.
Charcoal on canvas
50 x 70 cm
NY, USA
2018